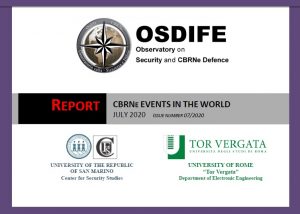 The University of Rome "Tor Vergata", Department of Electronic Engineering – DIE, the Observatory on Security and CBRNe Defence – OSDIFE, and the State University of the Republic of San Marino, Center for Security Studies – CUFS are pleased to present the "OSDIFE Report on CBRNe Events in the World – Issue July 2020".
The Report aims to disseminate information related to a wide range of unconventional events worldwide, selected and systematised by our international editorial team on a weekly basis over the whole month, with relation to Africa, Asia, Europe, Latin America, North America, Oceania.
The Report covers issues related to CBRNe threats, and also has special coverage for COVID-19 pandemic, terrorism and counter-terrorism, security and defence technological innovations.
The OSDIFE Report endeavours to build a network of mutual information exchange. To this aim, we invite you to contribute to the Report by sending news, events and initiatives of relevance to CBRNe and WMD, by email to CBRNe-die@ing.uniroma2.it
We would also like to remind you that OSDIFE is developing an Intelligent Platform for CBRNe Events and Asymmetric Threats, adopting Artificial Intelligence to provide an OSINT tool focused on CBRNe/WMD/Terrorism/Cyber/Crime threats and trends with application across security, academia and science fields.
To get more information about the tool, please contact us at  CBRNe-die@ing.uniroma2.it
The Staff is thankful for your interest and wish you a pleasant reading.